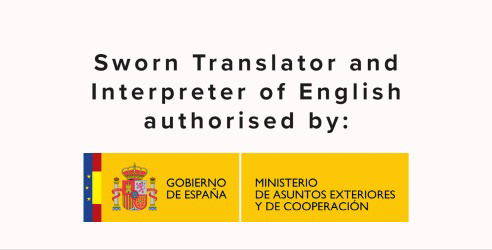 Since 19th January 2006, I am a certified or sworn translator and interpreter of English duly authorised by the Spanish Ministry of Foreign Affairs, European Union and Cooperation
, as established in the additional provision Sixteenth of Law 2/2014, of March 25, modified by the fourth final provision of Law 29/2015, of July 30.
In order to provide information to citizens, the Office of Language Interpretation, the highest organ of the State Administration in matters of translation and interpretation of languages, periodically prepares and publishes a
List of all Sworn Translators-Interpreters
who have been appointed, indicating the language or languages for which translation and interpretation have been enabled.
The requirements for the granting of the Sworn Translator-Interpreter title as well as the provisions regarding the seal and certification are contained in Order AEC-2125-2014, of November 6.
Typical requests of sworn translations include: criminal records, marriage and divorce certificates, birth and death certificates, judicial documents, agreements, contracts and deeds, invoices and fiscal forms, identity documents, transcripts and diplomas.